Attendance & Expectations
Students in all tutoring sessions should arrive on time, be prepared for the session, participate actively, and stay for the entire appointment.
The expectations of tutoring follow Appalachian State University Conduct, Academic Integrity, and Title IX Compliance office's standards of student behavior. Additionally, all tutors may discontinue service to students if they feel threatened, harassed, uncomfortable, unsafe, etc. It is up to the discretion of the Tutoring Coordinator as to whether or not the privilege of tutoring will continue to be offered to each student, based on behavior.
Tutors cannot assist with graded assignments and are encouraged to terminate a session(s) if they feel a student is placing inappropriate expectations on them.
Tutee Responsibilities
Students attending any type of tutoring session should adhere to the following expectations:
Come prepared. Be aware of your instructor's policies regarding help with assignments, inform the tutor of the specific content you would like assistance with, and bring any necessary course and note-taking materials.
Actively participate. Engage actively in the tutoring session by asking questions, seeking clarificationg and participating in discussions.
Uphold integrity. Do not use tutoring privileges to engage in academic integrity violations, such as plagiarism, copying the work of others, etc. Recognize that the tutor's role is to assist you with better understanding of concepts and developing stronger study skills; not to complete work for you or replace your responsibility to attend class.
Be respectful and contribute to a positive environment. Seeking assistance can be stressful. Make a good faith effort to be respectful of tutors and other participants, and to avoid disruptions and distracting behavior, such as use of a mobile device.
Refer to the University Tutorial Services Tutee Agreement (pdf) for the complete details of tutoring terms and conditions.
Attendance and Missed Appointments
For appointment-based tutoring, students who cannot attend a scheduled appointment should notify the Student Learning Center and their tutor at least 24 hours before the scheduled appointment. Failure to do so will result in a missed appointment.
Missed appointments will be received for the following:
Canceling less than 24 hours prior to the appointment
Failure to arrive to the appointment
Consistent tardiness or leaving the appointment early
Three (3) missed appointments will result in the loss of tutoring privileges. Loss of tutoring privileges will include termination of access to the scheduling system and suspension of access to drop-in and LEAD support.
Reinstating Privileges
If you have missed three (3) appointments and would like to be able to continue tutoring during the semester, please meet with the Tutoring Coordinator to have your tutoring privileges considered for reinstatement.
Tutor Certification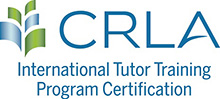 The CRLA Certification Team's core value is to help tutor training administrators develop and deliver exemplary training. CRLA helps tutor training programs to meet the needs of their institution, reflect the program philosophy, and provide meaningful engagement for the tutors they train and students they serve.