Joining University Tutorial Services, as Director of University Tutorial Services, in February of 2018, Lee has brought 13 years of experience in coordinating academic student growth by promoting and improving peer tutoring, Supplemental Instruction and study skills support. Prior to coming to Appalachian, Lee worked in the Student Support Services Program, at Mars Hill University, a private liberal arts university in Mars Hill, NC. Additionally, while serving within the department, Lee coordinated the design and implementation of seminars and program initiatives focused on student development. While at MHU, Lee also taught First Year Seminar courses to general population students and to at-risk populations focusing on academic success strategies and leadership development from a Christian world-view.
As the Director of University Tutorial Services, Lee is responsible for administering Small Group Tutoring in the UTS Lab, Lead Tutoring, and Help Labs. Additionally he oversees all training for UTS including the CRLA-certified tutor-training program in collaboration with the Academic Strategy Instruction Director and is responsible for identifying and implementing strategic and innovative tutoring models.
A native of McDowell County, NC, Lee earned a B.A. in Sociology and a B.A. in Spanish from Mars Hill College in 2004. He earned a Master of Liberal Arts degree from UNC-Asheville in 2011, while researching Sustainability through the lenses of Environmental Sociology and the Sociology of Religion.
When not at work, Lee enjoys spending time with his family: his wife, Faith, and their two children; Titus, and Cora Lynne. Together they enjoy outdoor adventures like mountain biking, camping, and hiking. Lee is an ordained minister in the Free Will Baptist Church and is deeply honored to serve as an evangelist and servant for his LORD.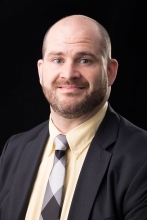 Title:

University Tutorial Services Director, LEAD Tutoring Director
Department:

Student Learning Center

Email address: Email me

Phone: (828) 262-6809
Office address
211 D.D. Dougherty Hall