Heather coordinates and provides courses that focus on developing strategies for success. Specific courses include Effective Study Skills, Time Management, Technology for Enhanced Learning , Power Reading, College to Career and Academic Strategies. She coordinates and provides individual consultations on topics related to academic success, and trains tutors/mentors/academic coaches in strategies to provide academic support and integrate instruction in academic strategies. Previously, Heather served as the Assistant Director of Academic Strategy Instruction for nine years.

Before joining us, Heather worked in the public school setting as a school psychologist for seven years. In that role, Heather helped identify students' learning difficulties and assisted with creating strategies to increase their academic success through evaluations and consultations with teachers, parents, and students. An Appalachian alum, Heather received her Bachelor's degrees in Communication Disorders and Psychology in 1998, and her Master's and Certificate of Advanced Study (Ed.S. equivalent) in School Psychology in 2002. Part of her graduate studies included interventions and strategies for reading, assessment, functional behavior analysis, and behavior modification.

Though born in Georgia, Boone has been home to Heather for over half her life. As a graduate of Appalachian, she is a true Mountaineer. She enjoys traveling, opportunities to be creative, learning, and spending time with her husband, two boys, and her dogs.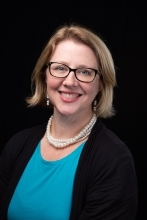 Title:

Academic Strategy Instruction Director
Department:

Student Learning Center

Email address: Email me

Phone: (828) 262-3044
Office address
230 D.D. Dougherty Hall